Service Promotions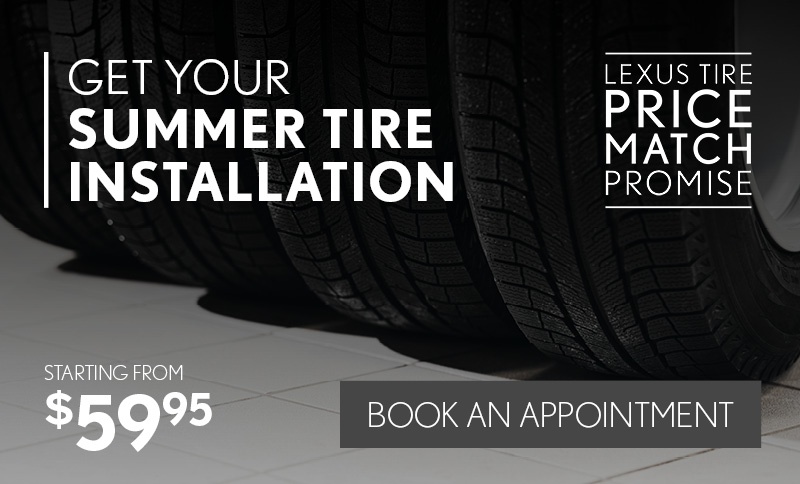 When it is time to talk tires, you'll see options around every corner.
Find Canada's leading tire brands at competitive prices, installed by the experts who know your Lexus best.
WINTER TIRES
Winter Tires are designed to perform optimally, playing a crucial role in overall vehicle safety and performance, in both snowy conditions and cold temperatures. They're recommended whenever average daily temperatures fall below 7°C and are legally required on all passenger vehicles in Quebec, between December 1st and March 15th.
Facts & Features:
Unidirectional/V-groove tread designs are best at moving slush and snow out of the way
Large, open tread blocks with many tiny slits (sipes), cut through deep snow and perform better on wet pavement
Specialized, soft tread compounds dig into snow, stick to ice at low temperatures, and contribute to a comfortable ride on cold pavement
Optimal performance in cold weather temperatures
Enhanced vehicle stability control (VSC) operation and smoother take-off when equipped with traction control (TRAC)
ALL-SEASON TIRES
Some Lexus vehicles are equipped with All-Season Tires for good performance in a wide variety of conditions. With harder rubber compounds than performance tires, they have longer tread life and provide a quieter ride, but as conditions become more extreme, performance is reduced.
Facts & Features:
Longer tread life and quieter ride than performance tires
Tread designs provide low rolling resistance and improved fuel efficiency
Strong, flexible sidewalls and mid-range aspect ratios provide a balance of ride comfort and nimble handling
Deeply grooved treads take rainwater away from the tire
In many Provinces, you will still need to switch to Winter Tires for optimal traction and performance